I am concerned no one noticed the safety issue with your pellet hopper configuration. I don't think adding the extension to the hopper riser will totally eliminate your burn back into the hopper issue. If air can be sucked in from the hopper, the fire will move towards the incoming air. Just like when you back burn a hay field on the downwind end, the fire will move slowly towards the air. The extension just gives you a longer chimney when it eventually happens.
I woke in my tiny house at 2:30 a.m. one night to find a foot or more of flames coming out of the 4x6" galv. reducer I jammed into the hopper for an extension. Lucky it was empty, and as soon as I knocked it off my pellet feed opening, the flames subsided to a safe level. Never again.
I think the reason your burn back stopped may be you simply haven't burned it long enough. It will just take longer with the extension. Be very careful if you leave it this way. I would suggest move the hopper off the stove and feed stove with a piece of tubing like ZeroFossilFuel does in his pellet basket video. 3" snaplock vent pipe worked good for me, but try to do it better than I did  in this picture. I will too.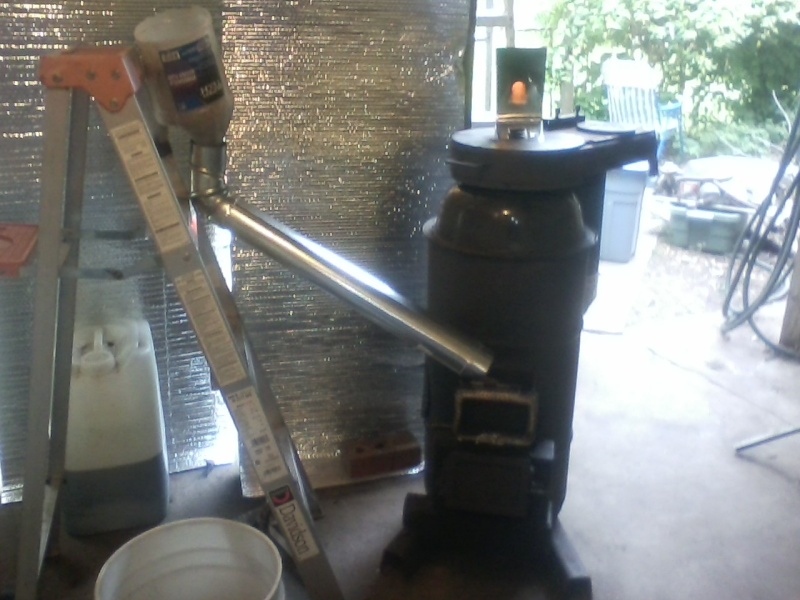 From my experience your pellet basket is way too far from the riser opening for decent temps. By actually intruding into the riser opening, my stove can be set up to burn 4 lbs per hour easily. Like I said, be careful.